Marking by burning
KAUSISTAR RANGE
The Kausistar range is especially conceived to needs for marking on wood, leather, some plastics, and rubber. The device gets a piece of bronze in temperature with elements to mark, that can be of every sort : logo, interchangeable characters, drawing… The marking is done by burning, in a few seconds.
NUMBERING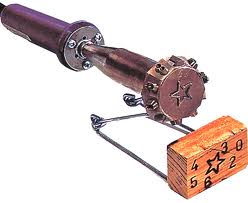 We also propose, for needs in numbering, spreadsheets that allows to engrave characters from 0 to 9 with the possibility to add an identification's engraving at the device end.
We also provide numbering machines that contain up to 7 toothed wheels with an isolate locking key, for a speed change of numbering.