Portable version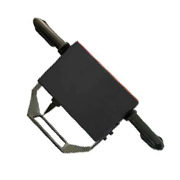 When the pieces to mark are big or hard to move, we provide marking gun conceived for perfect handling ability and high ease of use.
PROGRAMMING IN A FEW SECONDS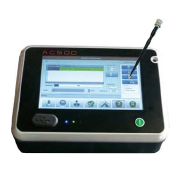 With the AC500 controller, you can do page setting and put in place your marking, and of course save or call back a marking program.
It also has the advantage of many connectors : Ethernet port, serial port, USB port, I/O connector.
With a wide 7″ screen, programming is easy and speed to mark most of materials up to 62 HRC of hardness :
aluminium, steel, stainless steel, painted pieces, plastic, polycarbonate…
Arc of a circle marking, time-stamping, incrementation, data matrix, logo marking… It is a solution for most of your needs in identification.