PN System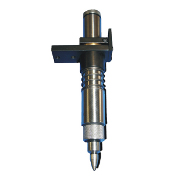 The PN range devices are conceived to respond the needs in marking of companies : for example, they allow to track pieces that have just been controlled, but also to put a colour marker to make easier mechanic parts assembly.
SIMPLE AND AFFORDABLE SOLUTION
The marking is speed, the device upkeep is negligible and a lot of colours are possible.
Two versions available :
– PN200 : paint cartridge is integrated into the marking head.
– PN200D : external reservoir, that allows to work in all positions, even from top to bottom.